HCA is a leader in the restaurant exhaust hood cleaning industry.
We are one stop solution for all your cleaning needs nationwide. Now expanding to serve South East Florida and Ottawa.
02.
Commercial Hood Cleaning
Kitchen Exhaust Duct Cleaning is the process of removing grease and dust that gets accumulated inside the ducts, fans, hoods and vents of exhaust systems of kitchens.
02.
Kitchen Exhaust Cleaning
Our exhaust hood fan repair technicians are experts in diagnosing problems with your kitchen exhaust hood fan and provide you with the best possible solution to improvise.
02.
Cleaning And Degreasing
The real commercial kitchen exhaust duct system cleaning guidelines are outlined in the National Fire Protection Association (NFPA 96 Fire Codes).
We know how important is a no-mess kitchen after all the service and installation hence we provide equipment cleaning as well.
You know that you need to have safe and healthy environment in restaurant, which means regular and professional duct cleaning is must!!
06.
Products & Installations
Access doors(ULC-Listed), Hood bafle filters, Grease containment systems, PCU filters, UV system parts, Soaker Tanks, Food approved chemicals & Hood light globes
We ensure a high quality, safe and virtually "no-mess" experience.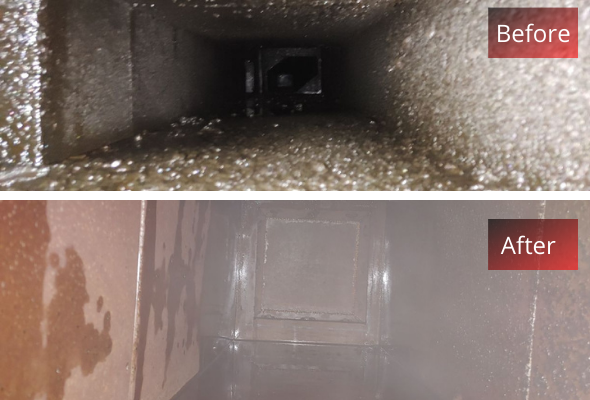 Quick Service On Emergency Call - 24/7
Our toll free 24/7 customer care line is available to you with live operators. Call and speak with us today.